Online enrolment enquiry form
Are you interested in looking at St Brendan's for your child? Just complete our online enrolment enquiry form and we'll be in touch.
Enrolment Enquiry Form
Enrol at St Brendan's Catholic Primary School Lake Munmorah
As one of the best primary schools in Lake Munmorah and surrounds, enrolling at St Brendan's Catholic Primary School is an excellent choice for local families.
We are a safe and inclusive primary school that encourages agile, collaborative thinking. Your child will be included, noticed and heard here. Meaningful, authentic learning enhances each child's education and we use flexible learning spaces to help each student achieve success.
Your child will gain a holistic education at St Brendan's, based on the Catholic values which underpin our curriculum and guide all our actions.
We welcome students of all backgrounds, cultures and religions to join our school family. Children enrolled in our school do not need to be of the Catholic faith and will be welcomed into our Catholic values.
You are welcome to come for a tour of St Brendan's anytime. Please fill out our online enrolment enquiry form or contact the office and we will be in touch shortly to book a time for your private tour.
We are the feeder school for St Brigid's Catholic College. Your enrolment at St Brendan's, especially from Kindergarten, gives you preferred entry to St Brigid's. We encourage you to continue your journey with Catholic education from Year 7 onwards.
How to enrol
Enrolment applications are open throughout the year. Application for St Brendan's is a straightforward process that begins by completing an online enrolment form in our enrolment pack. You can also pick this up from our school office or contact us to have it posted to you.
Download your enrolment pack here.
Enrolment Form
To complete your Enrolment Form, click on the link to the enrolment form above, an editable pdf will open in a new window.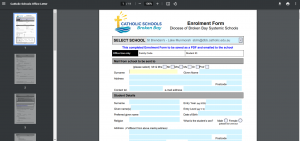 Once you have completed the form, select the download arrow on the right of the screen (highlighted by the red oval below).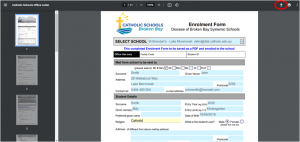 Select the option that says 'with your changes' (highlighted by the red oval below).

A save window will popup, save the pdf to your computer. Please add the child's name to the title.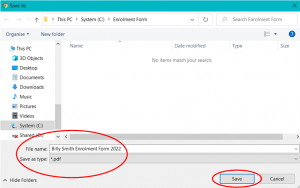 You can now email your completed Enrolment Form to sblm@dbb.catholic.edu.au
You will need to provide all additional documentation when you attend the Enrolment Interview.
Additional documents required:
Birth certificate
Immunisation record
Baptismal certificate
If you are seeking to enrol a child who is a temporary or permanent visa holder, the following will also need to be provided:
Visa documentation
Child's passport
Parent's passports
We will then contact you to book a private tour of the school and meet our principal, Craig McNee.
You will only receive one enrolment offer from one Catholic school to maintain fairness for all families in our area.
Enrolment Policy
Standard Collection Notice
Parent Handbook
Kindergarten enrolments
New Kindergarten enrolments are ideally accepted in May but are welcome throughout the year. For Kindergarten enrolments, children must be aged 5 prior to July 31 of that year, as per NSW Education Standards Authority guidelines.
Families wanting to enrol in Kindergarten will be invited to meet the principal in May and can enjoy a tour of our school to get a feel for all that we have to offer your child.
Kindergarten applications follow the same process as above.
School fees
We are committed to making Catholic education accessible for your child, regardless of your financial circumstance. That's why we aim to keep our fees as low as possible.
We will never exclude a Catholic student from attending our school because of financial hardship. If you would like to organise a payment plan to make it easier to manage your school fees, please contact the Fee Liaison Unit at the Catholic Schools Office via email schoolfees@dbb.org.au or email the school sblm@dbb.catholic.edu.au
2021 School Fees
COVID-19 Fee Relief
Catholic Schools Broken Bay are committed to supporting families as the impact of COVID-19 continues to be felt in the community. No family will be excluded from our school because of financial difficulties.
Even if you have not enrolled yet, we would like to offer the following help with school fees if you need it:
A full reduction on ALL fees if your family gets JobSeeker.
A 50%+ reduction on ALL fees if one parent in your family gets JobKeeper.
If you are unsure if your family can get fee help or need assistance completing the form please contact our COVID-19 FEE HELP HOTLINE on 9847 0728 (8am – 4pm Monday to Friday).
Please find the 2021 Fee Relief Request form here and return to us at schoolfees@dbb.org.au
TAKE A VIRTUAL TOUR OF ST BRENDAN'S