When you choose to come to St Brendan's Catholic School you choose more than just an education.
You choose to belong to a community who work in partnership for the good of all. We take pride in and draw strength from our motto, "Alive in Christ". In doing so, we give expression to our Catholic beliefs by making relevant connections to the contemporary world.
We believe passionately in an inclusive learning environment and promote opportunities which challenge and stretch all students in a safe and supportive environment. There is a K-2 Hive which caters for up to ten students with significant learning needs with a view to entering mainstream in Year Three. There is a dedicated, well qualified Higher Ability teacher who supports Gifted and Talented K-6.
Staff members at St Brendan's are committed to ensuring vibrant, purposeful learning experiences which nurture all students to develop a love of learning, to be respectful and to fulfil their potential. When students are engaged in authentic and meaningful learning their chance of success increases. That's why we embrace student-led learning where our children make a very real contribution to their education. Flexible learning spaces, use of technology, innovative problem solving and student leadership are evidence of the way our students contribute to their learning at St Brendan's.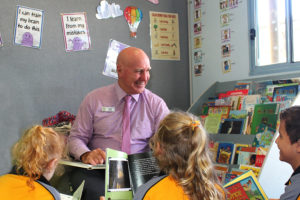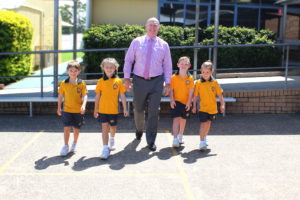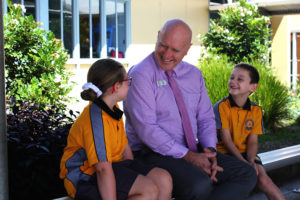 The Parish of St Brendan's sits within the wider context of the Catholic community of Toukley and Lake Munmorah and is integral to our community. There are many religious celebrations for our families to participate in and all are encouraged to practice their faith within the community. The school's leadership team greatly values the collaborative relationship which exists with the Parish Priest and his team.
Parent involvement and engagement are highly encouraged as parents are recognised as the prime educators of their child. The school boasts a hardworking and energetic Parent Advisory Group whose purpose is to work closely with the leadership team to nurture and enrich the Mission of the school.
The school prides itself on living out the principles and values of our Positive Behaviour for Learning framework (PBL); students are explicitly taught expectations and behaviours. The Social and Emotional Continuum is tracked by staff to ensure students are equipped with skills to effectively manage their emotions, behaviour and relationships with others. St Brendan's is a KidsMatter school with the emotional wellbeing of our community taking a high priority.
On-site there is an Early Learning Centre, an Out of Hours School Care facility, Catholic Care rooms and a new secondary school, St Brigid's Catholic College, directly across the road.
At St Brendan's our beliefs are articulated through our 'Commitment Statement'; you can find a copy of this statement on our website.
Please take your time to enjoy our website and view the wonderful things that are happening in our Community. If you have any queries, please contact our Office.
Mr Craig McNee
Principal 
For more information about St Brendan's please read the following documents:
Commitment Statement
2018 Annual School Report
Behaviour Support Guidelines
Anti-Bullying Policy
Parent Handbook