Ms Rebecca Leahy is the Aboriginal Education Worker (AEW) at St Brendan's Catholic School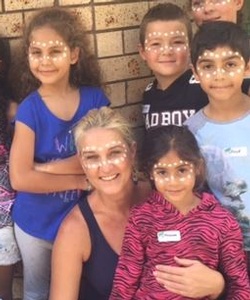 Situated within the traditional lands of the Awabakal people, St Brendan's has an Aboriginal Education Worker on site two days per week.
Ms Rebecca Leahy fulfils this role on Tuesday and Thursday at St Brendan's.
Through Rebecca's knowledge, understanding and the sharing of local Aboriginal history, language and culture she is able to assist Aboriginal students with their schooling in partnership with the classroom teacher, parents/ carers and community by providing support and advice.
Rebecca encourages and co-ordinates student participation in cultural celebrations and liturgies for example NAIDOC WEEK and SORRY DAY and inspires students by promoting their Indigenous heritage.
Rebecca is available to support Aboriginal students both culturally and academically. Her primary focus is to assist Aboriginal students to improve their educational outcomes, to monitor the progress of these students and to work in partnership with teachers, parents and community to ensure that each student achieves his or her full potential and aspiration.
Contact details: 4358 1501
Email address: rebecca.leahy@dbb.catholic.edu.au